Quick Escape

---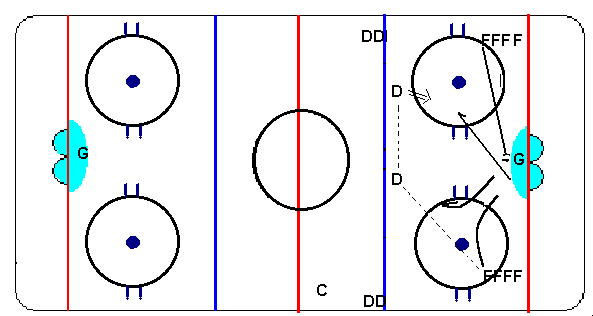 ---
Description: This drill incorporates game like situations to emphasize quickness on loose pucks, offensive tactics and skills (tips, deflections & going to the net, triangulation, and rebounds). The players must support one another and breakout attacking defenders. The drill begins by one line of players passing to defence. This defenceman passes to defensive partner who shoots on net. Meanwhile the other line's forward leaves immediately (on the first pass) to take position in front of net. This player screens goalie and/or deflects point shot. The two forwards play out this play until a goal is scored or the coach blows the whistle. At which time the two forwards grab the puck and breakout attacking the defenceman on the line, a two vs two.
Variations: On the coaches whistle he may choose to yell "two" or "one" (defenceman) creating a two versus two or a two vs one. The coach may also wish to have three forwards leave the lines attacking three vs two. In this last instance two players would leave from the original passing line on playing the high slot.
Cues: Good position for screen and tip, complete play by going to net. (Review defensive options in odd man situations. Quality passing and support. On three vs two triangle attack options.
Thanks to Malcolm Sutherland for his weekly drill submissions.

Malcolm Sutherland H.B. kin., C.P.T. Owner Director of Superior Hockey Schools (superiorhockey.com)
email Advanced certified Coach with Hockey Canada
Assistant Coach of the Thunder Bay Thunder Cats United Hockey League(Minor Pro.)
Certified Personal Trainer (American Council on Exercise; and IDEA)
Hockey Author
Inside Hockey / Hockey Player Magazine
Thunder Bay Hockey News on the web Youth Hockey Network (YHN.COM)